FOR EMPLOYERS
The Bentley Price Associates, Inc. executive team knows the Hospitality and Gaming Industry, inside and out. Sourcing prime talent from our broad network of contacts, is an advantage that puts Bentley Price Associates, Inc. always in demand.
Importantly, we do our due diligence to assure that every candidate you interview has been thoroughly vetted and meets all of your requirements. We won't waste your time. Your peace of mind comes from knowing that our team understands the need for trust and confidentiality in what are often very sensitive negotiations.
EMPLOYERS: CONTACT US NOW TO DISCUSS YOUR SEARCH PROJECT.
Under the leadership of veteran hospitality executive President and CEO Dennis P. Rizzo his company has become a leader finding and placing top talent in luxury, boutique, and resort hotels, casinos and related gaming properties, and luxury senior living operations.
Now in its 40th year in business, Bentley Price Associates, Inc. continues its focus on providing a service with a long run of successful searches and placements.
---
FOR JOB SEEKERS
As a Candidate you never pay a fee to register with our database, be submitted to an employer for consideration, or when an employer hires you for that position.
JOB SEEKERS: REGISTER NOW AND JOIN OUR CANDIDATE DATABASE
To be successful in the Hospitality and Gaming Industry Executive Search and Recruiting business, being able to provide employers with highly-qualified candidates is crucial. That's why we work with job seekers to catalog and verify their skills, talents, and experience. We will only present to employers candidates that meet all of the requirements of the position.
Bentley Price Associates, Inc. maintains a confidential database of qualified candidates. There is no cost to register and submit a resume for inclusion in our secure talent database.
---
For anyone invested in their future in the hospitality industry, continuing education is essential. Like every other sector, hospitality changes
There has never been a better time to stack the odds of premium employment opportunities in your favor. Gone are the days of hotel recruiters and casino recruiters offering jobs at sub-par wages.
The hot categories that hospitality recruiters are trying to fill. Dennis Rizzo highlights the trends.
Whether you're an employer or a prospective employee, you may feel overwhelmed with options and opportunities.
June 1 is the deadline for entries in this year's annual Gaming & Hospitality Industry Awards. The competition, hosted by trade publication Gaming & Leisure, is open to companies that provide products and services to the sector.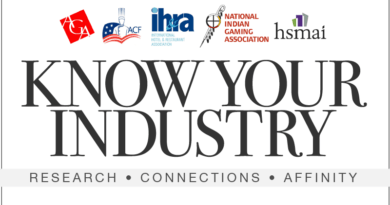 If you are wanting to enter the Hospitality and Gaming Industry, or are looking to expand your career, knowing the state of the industry is a must. Industry associations offer important resources for professionals.